I will Marry Destiny Etiko if She is truly a virgin" – Opeyemi Falegan discloses
Opeyemi Falegan, the ex-partner of Nollywood actress, Nkechi Blessed has publicly announced his intention to pursue Destiny Etiko after the latter stated that she was a virgin.
Recall that Destiny Etiko shared this in a recent interview with OakTv, that she made a decision to remain celibate.
According to her, she has not been in a relationship that has progressed to the point of being intimate.
In a recent Instagram post, Falegan stated that he believed her claim and expressed his desire to marry her, citing her beauty and outspoken nature as attractive qualities.
He wrote;
"Destiny Etiko said she is a virgin i kinda believe her. If truly she is a virgin i will like to marry her, moreover she has the best shape in nollywood and quite outspoken and well educated. ( my type ) Omodaa daa, but only if she is a virgin. It will be reasonable to atleast marry morality, lack of corruption, goodness, cleanness, clarity, freshness, lack of pollution, untaintedness.
Daddy Freeze would make a perfect officiating church minister lol. But before u think she is lying or cant fit into Ekiti First Lady. remember. I had a purpose before anyone had an opinion. (ODF)"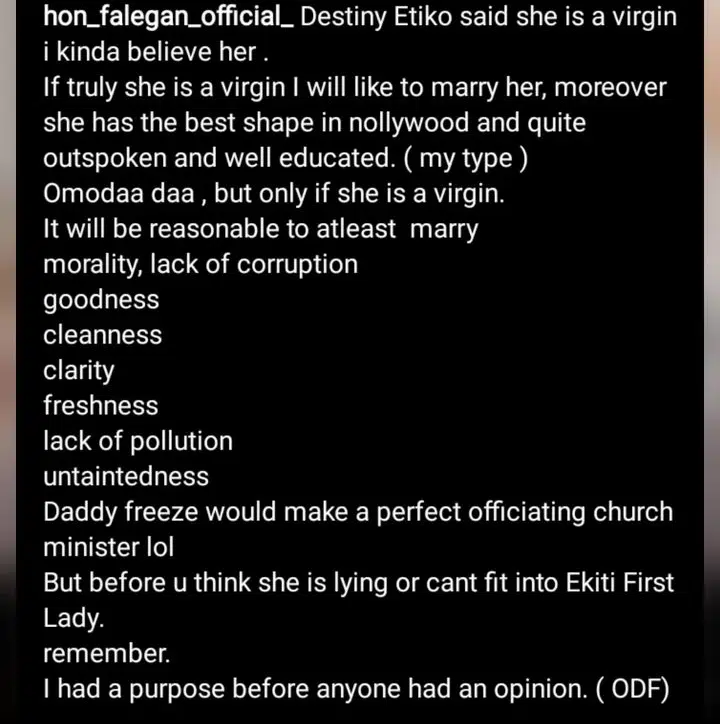 Related